Question:
How do I enable Dual Display on my computer?
Answer:
Right click anywhere on the Desktop, not on an application screen or icon.
Select Properties at the menu bottom.
In the dialog that appears, click the Settings tab at the top right.

You will see two monitor images. click on image #2 to select it (

IMPORTANT:

Do NOT double click the image).
Set the Screen resolution to 1024×768 or higher
Set the Color quality to Medium 16-bits or Highest 32-bits.
Check Extend my Windows Desktop to this Monitor.
Click OK to set your changes and close this dialog.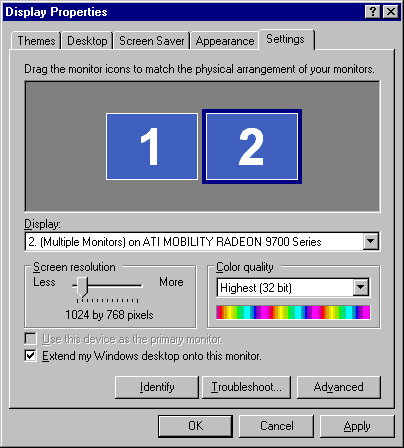 When in Extended Desktop mode you should see your Desktop wallpaper only, no icons, toolbars, etc. If this doesn't work, contact the Computer manufacturer or the video card manufacturer to find out how to make your system support dual display.
IMPORTANT NOTICE: With Windows XP Home, an ATI card must be set (read the manual) to Extended Desktop Mode, not Clone Mode, which mirrors the pc display. Then when running Hoster the TV shows the song lyrics, and when not running Hoster the TV displays your Desktop wallpaper.